A busy pencil leads to an engaged mind and enhanced learning. 
 Don Potter 3/26/12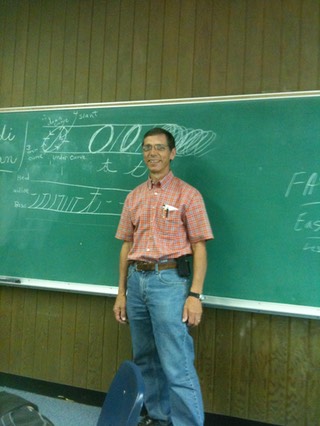 Don doing what he likes best - Teaching Cursive  
Handwriting is the Hands On Way That Children Learn to Read
and
Cursive Does It Best
Romald Spalding was right when she wrote in the 1975 original edition of The Writing Road to Reading, "The teaching of writing should precede reading. This is fundamental. It is the only approach to the printed or written word that is clear and understandable to all children….I should like to say at this point that good and facile handwriting is a most important part of language. The lack of it is a constant handicap. It can be quickly acquired only if correct and exact techniques are used from the start, and well maintained at all times." (WRTR, 1957, p. 152) 
Ted Presentation on The Power of the Pen. Here is an insightful quote, "The greater we grow our dependency on technology we may soon find that we have created the most technologically advanced way of creating illiteracy." 
Samuel L. Blumenfeld maintains that we should start children writing with Cursive First, just as everyone in America learned to write before 1923. I totally agree, especially since I was taught Cursive First when I began school in 1953. Here is my Alpha-Phonics Cursive, with can be used with Alpha-Phonics or Blumenfeld Alpha-Phonics. 

Peterson Handwriting: Good handwriting and good reading go together, both should be automated in order to free up the mind for good comprehension and creative composition. The Peterson Handwriting Company has done some highly sophisticated research into process of automated handwriting. Visit their web site at: Peterson Handwriting. They have published a REVIEW COPY of their entire program at: Handwriting - The Complete Program. Here is a must-see video training session with Randy Nelson: How to. Matthew McNatt has written that, "Just as well-taught writing can help students' reading, poorly taught writing can hinder students' reading." Read his comments on the effectiveness of the Peterson Method at the McNatt Learning Center. Be sure and see Randy Nelson's Handwriting for Literacy blog. We are currently encouraging teachers to measure students' ABC writing fluency to see how it impacts early reading development. We expect a close positive correlation. 

Shortcut to Cursive (2013) by Donald L. Potter. I developed this streamlined yet comprehensive method for new students coming to my school, where cursive is the only form of writing used from kindergarten up. I am preparing more detailed instruction which will explain how to join letters and develop fluency. This document was produced with the font from Educational Fontware, Inc. www.educationalfontware.co. I have used the program with a wide variety of student in whole-class and private tutoring with great success. Here are my Shortcut to Cursive Flashcards. Here is a sample of one of my student's cursive, it was a gift for my 68 birthday on March 20, 2015: Annie's Birthday Letter.  
Early in 2014, I shortened up my Shortcut to Cursive into a new program I call, Direct Path to Cursive. It is a comprehensive program which is even more streamlined than my earlier Shortcut to Cursive. Here is a document I wrote on January 3, 2014 explaining how to develop "batch processing" in cursive handwriting: Cursive Fluency. 
Word Mastery Cursive (2014). This is a new edition of Florence Akin's 1913 Word Mastery phonics program for the first three grades that I have converted to cursive print. It is the perfect tool for teaching anyone to read cursive writing. The cursive style is basically Palmer. This is a sale item in my CreateSpace e-Store. 
First Readers Anthology: Cursive Edition (2014). This paperback book contains 11 decodable readers that take students from simple short vowel words to advanced English orthographic structures. It is a perfect companion to my Direct Path to Cursive and My Word Mastery Cursive. The text is in Standard America Cursive (Palmer). This is a sale item in my CreateSpace e-Store. 
Shortcut to Manuscript: This is the manuscript method that I use when teaching student from the public school. I do NOT recommend manuscript for first-grade and up, but to offer practical help to teachers who are required to teach manuscript I am providing this very valuable instruction. Overall I am deeply disappointed in the handwriting of the students coming to me for tutoring, the dismal results of which I am convinced are due to the deplorable lack of teacher training in handwriting. My method will prove immensely helpful to any teacher who will follow it. 
WISE OWL Cursive Practice Sentences (2015). Here are 412 sentences I wrote years for teaching reading to bilingual students. They are repurposed here to help students develop cursive handwriting fluency. I am proud to make this powerful program available to parents and teachers interested in cursive sentences for copy work. 
History of Handwriting Instruction in America Since 1900 (2012) by Elizabeth Seton. Seton also wrote a fascinating paper on the advantages of teaching cursive first in relationship to reading fluency: Teaching Cursive Handwriting First Leads to Fluency in Reading and Writing (2012). 
Here is Dr. Robert Rose's new book, Forget the Bell Curve. Mr. Rose maintains that early letter writing fluency is the key to early reading success. I have found a very close correlation between alphabet writing fluency and reading ability in my tutoring students. Here are some materials I have developed for helping students develop fluent alphabet letter writing and identification ability. Here is a Spanish translation of Mr. Rose's thesis. The Writing/Reading Connections (2004) by Dr. Bob Rose. 
Don Potter's Alphabet Fluency Program. Here is a document by Team Cursive for teaching the the Cursive Alphabet in ABC Order. It can also be used of manuscript. 
Teaching Cursive: A Method that Works! by Linda Corson.  From the samples of the cursive and description of the program, I gather that this is a good one. The program takes 56 days at 10 minutes per day. I suppose it could be taught faster if more time each day were dedicated. There are no workbooks, so this is a direct instruction rather than trace and copy program. 
The Contribution of Handwriting and Spelling on Remediation to Overcome Dyslexia (2012) by Diane Montgomery. A highly technical paper advocating cursive-first. 
I recently purchased a Dodec Fountain Pen  by Manuscript Pen Company Ltd, Shopshire, England. I got it at Hobby Lobby here in Odessa, TX for $3.99. It is a superb student fountain pen. They also sell a Classic Fountain Pen, which I suspect from the quality of the cheaper pen will be a fine writing instrument, also. Walgreens sells the Zebra V-301 Fountain Pen, which I have found quite good for children, teens and adult. The stainless steel tip is virtually indestructible. 
How to write with a fountain pen. This YouTube is quite good. 
KET (Kentucky Educational Television) has an excellent set of DVD's that teach cursive handwriting. They cost $60.00 for a set plus S/H. KET Media Services, 600 Cooper Drive, Lexington, Ky 40502-2296. Phone (800) 945-9167.   
  Handwriting in the 21st Century? An Educational Summit. A meeting of 150 researchers and educators met in Washington on January 23, 2012 to discuss the tragic decline in handwriting instruction and its dire consequences. 
Dr. Karen Harman James is doing significant neurological research into handwriting and cursive at Indiana University. Printing, cursive, keyboarding: What's the difference when it comes to learning? Here is her important 2012 paper, "The effects of handwriting experience on functional brain development in pre-literate children." 
The influence of writing practice on letter recognition in preschool children: A comparison between handwriting and typing (2005) by Longcamp, et. al. Acta Psychologica. 

Here is an importance article on handwriting and literacy, Digitizing Literacy: Reflections on the Haptics of Writing by Anne Mangen and Jean-Luc Velay. 
Here is a link to the once famous Palmer Method (1915). Teacher's guide for the Palmer Method. Here is the 1935 Palmer Method of Business Writing. The Palmer's Penmanship Budget (1919) is very complete. Perhaps the best introduction to Palmer is his Self-Instruction in Modern Writing; A Complete School of Penmanship at Home: Muscular Movement - Its Development and Application. Palmer Guide to Business Writing (1894). Here is a marvelous YouTube clip demonstrating how the Palmer letters are made. A very nice new website is promoting the Palmer method: www.palmermethod.org. I wish them well in promoting Palmer's great cursive method. 
I like this 1866 method by my namesake, S. A. Potter, Penmanship Explained. 
Here is a must-see video on on the Suzuki Method of teaching cursive first. 

For the technically inclined, be sure and read "Submovment Analysis in Learning Cursive Handwriting or Block Print" by H. L. Teulings (2003). The upshot of the study is that improvement in fluency of block print (manuscript) tapers off rapidly with repeated practice, whereas cursive fluency continues to improve with no tapering off. 
Here is a good link to some old handwriting methods: Nib. 

Here is the Zaner method of cursive handwriting and a lot of other school ideas from 1921: Zaner Penmanship. Here are the Zaner-Bloser letter strokes - very helpful. A convenient Summary of Zaner-Bloser Strokes. 
YouTube Clip for teaching left-handed students. 
MAcLean Method of Muscular Arm Movement Writing for 3rd Grade. A very good method. Here is his 4th grade program.
Here is some information on the Spalding Writing Road to Reading manuscript letter formation. I have used Romanda Spaldings method for many years with excellent results. Note that Spalding, herself, did not use the dotted midline, nor do I. 
Public School Penmanship: A Handbook for Teachers. 1909. 
Manual of Free-hand Penmanship, 1877. 
How to Teach Writing, 1892. 
The Theory and Practice of Handwriting, 1897. This is a theoretical and practical book advocating vertical penmanship. I prefer slant cursive, but this is a good description of vertical cursive. 
Here is a very satisfactory handwriting method with complete details: Complete Manual of Commercial Penmanship, 1893. 

Graphics: A Manual of Drawing and Writing (1835). 

HAND-BOOK TO ACCOMPANY THE ECLECTIC SYSTEM OF PENMANSHIP (1870). 
I prefer cursive-first, but if you are required by your school to start with manuscript this YouTube clip will help: Manuscript Lesson. Cursive handwriting fluency continues to improve over time; manuscript, on the other hand, seems to quickly arrive at its fluency limit. 
ERIC ARTICLES: Here is a Handwriting Reference Book from ERIC. Here is another ERIC document: Communicating Through Handwriting: Handbook for Manuscript and Cursive Handwriting. Another Eric document: Research on Handwriting and Spelling. Handwriting Evaluation. Literature on The Evaluation of Handwriting. Research Survey (1977)
ERIC article by Donald Thurber (1983), D'Nealian Manuscript--An Aid To Reading Development"
You can create Zaner-Bloser Cursive Handwriting sheets at ABFontsOnline. 
Jeanette Farmer shows how multi-sensory handwriting handwriting training is a safe alternative to Ritalin: Retrain the Brain. Jeanette was one of the main people who motivated me to develop my Cursive Road to Reading and Spelling Program to help children with ADHD. Mrs. Farmer passed away recently, but her daughter is counting to maintain the website and sell her materials. 
Graded Movement Writing for Beginners (1910) by Margaret M. Hughes. 
A Text-Book on Penmanship: Containing All the Established Rules and Principles of the Art (1862) by Henry William Ellisworth. A profound book on philosophy, aesthetics, and practice of handwriting.  
Muscular Movement Writing Manual (1921) by C. C. Lister - a superb work. 
Manual of Fundamentals for the Teaching of Handwriting in the Public Schools (1918) by Tom Sawyier. 
Graded Movement Exercises - very valuable and lots of fun for the kids. 
Children Who Write as Men Wrote Before Printing (1925) by Francis M. Moore - Advocates a form of manuscript, but interesting. 
Here is another document explaining good Penmanship Basics. 
Here is information from 1925 concerning Majorie Wise's part in bringing manuscript to America. 
Psychology and Pedagogy of Writing by Mary E. Thompson (1911). 
Public School Penmanship: A Handbook for Teachers (1909) by Albert Willistine Clark is loaded with exercises. 
The Teaching of Handwriting (1914) by Frank N. Freeman. Freeman, also published as series of four articles on handwriting in the Elementary School Journal: A Course in Handwriting. His 1918 The Handwriting Movement: A Study of the Motor Factors of Excellence in Penmanship is a classic study. 
Complete Manual of Commercial Penmanship (1893) by Clarence E. Spayd. 
How to Teach Writing: A Manual of Penmanship Designed to Accompany Appleton's Standard Copy Books (1892) by Lyman D. Smith. 
Luthy's Scientific Handwriting being an Analysis of Roman Script Form and execution (1918). 
John Jenkins (1813) The Art of Handwriting. Ames' Guide to Self-Instruction in Practical and Artistic Penmanship (1884) by Daniel T. Ames. 
Far and away the BEST exercise book for cursive is The Champion Method of Practical Business Writing by Mary L. Champion. Teachers using cursive exercises for curing ADHD will find this book most helpful. I use the drills every day in my classes. 
The Psychology and Pedagogy of Handwriting (1920) D. E. Hamilton. 
Here is C. P. Zāner's justly famous The Arm Movement Method of Rapid Writing (1904). 
The Payson, Duton & Scribner Manual of Penmanship (1872). 
Penmanship: Determining the Achievement of Elementary School Graduates in Handwriting (1916). 
Walker Method of Writing for Public and Private Schools (1922): One of the most useful books on handwriting ever published. 
"Handwriting, Posture and the Use of Pencil Gripper" (1991) by Dennis Hoover. 
Kinesthetic Approach to Handwriting (1998) by Mary Benbow. 
Supervision and Teaching of Handwriting (1926) Joseph S. Taylor. 
English Handwriting 1500-1700. 
The Young Clerk's Assistant Penmanship Made Easy Instructive and Entertaining: Being a Complete Copybook , Neatly Engraved for the Practice of Youth in the Art of Writing. London, 1787. 
Penmanship Made Easy (1919) by Edward Summers Squier. M.A. A most delightful and helpful textbook. 
I See Sam Handwriting Resource, very some excellent information. 
Here is the 1918 New York City Penmanship Scale. 
Penmanship: Determining the Achievement of Elementary School Graduates in Handwriting (1916). 
A Handbook to Accompany the Eclectic System of Penmanship (1870). 
Here is an important recent article on the neurological advantages of handwriting over keyboarding. 
For those who are unfortunate enough to have to teach manuscript to beginning students, here is a clear explanation of Romalda Spalding's Method. I taught this one year, but immediately went back to cursive the next when I returned to teaching Blumenfeld's Alpha-Phonics. 

Pencil Grip: A Descriptive Model and Four Empirical Studies (2003) by Ann-Sofie Selin. 
Dr. Patrick Groff: Handwriting and its Relationship to Spelling. 
Denise Eide has just published a Free Cursive Course. 

Writing to Read: Evidence for How Writing Can Improve Reading
 by Steven Graham and Michael Hebert. 
The Art of Writing  (c1813) by John Jenkins. A wonderful book on American Cursive. Endorsed by Ezra Styles, Timothy Dwight and other luminaries of the time. 
The Teaching of Penmanship  (1913) Harry Houston. 
Ontario Writing Course (1916). An excellent method, very helpful. 
 Handwriting Scale. A rubric for grading cursive handwriting. Attempts to set objective paramaters. 
 Believe it or not, Wikapedia has a rather scholarly article on the Palmer Method. 
"Unconscious deciphering handwriting: Subliminal invariance for handwritten word in the visual word form area" (2009), Neuroimaging.  
Handwriting  (2009) from the State of Tasmania, Australia. Teaches cursive italics, but has a lot of excellent ideas. Everyone should read this. 
The Effect of the Handwriting Without Tears Program On Student Cursive Writing Achievement At Central Institute for the Deaf (2008) by Julie A. Galanis. This study is very interesting. I should like to register my personal preference for Standard America Slant Cursive over vertical cursive, believing that the slant is conducive to improved left to right fluency. The supposed benefits of vertical cursive being similar to vertical print is of no concern to me since I advocate cursive-first. 
Effects of Stimulus Distance on Children's Handwriting Copying Performance (1990) by Kay Francis Walker. An interesting PhD thesis. I suspect that cursive-first students would have much better copying ability at any distance. 
The Contribution of Handwriting and Spelling Remediation to Overcome Dyslexia (2012) by Diane Montgomery. This paper is pretty close to what have found successful when working with people said to have dyslexia. The main focus of my instruction is handwriting (cursive) and spelling (phonics w/letter names). 
Here is a comment (lament) from American Magazine on the decline in cursive handwriting. I taught Spanish in junior high for two years. Although I have very good chalkboard cursive, probably half my students were unable to read cursive. This is for a school district and in a state (Texas) that supposedly requires all students to learn cursive. Evidently many elementary teachers have jumped the gun and taken it upon themselves to eliminate cursive, which act I consider a serious attack on academic achievement and the important continuity of our rich cultural heritage. Yet, this same district uses cursive to help the student that didn't get cursive to overcome dyslexia. If it is good for dyslexics, why isn't it good for everyone? 
What About Penmanship? This is pretty comprehensive study by a homeschool family on the different options for teaching handwriting. My recommendation and practice is a good traditional slant cursive taught first, rather than manuscript-first. 
Back to School but Not Back to Basics by Linda S. Spencer. A through provoking article with lots of reference concerning the misguided stamped to eliminate cursive from the elementary curriculum. 
Contrary Opinion on Cursive. Dubay & Getty have produced an Italic handwriting program that is popular among home school parents. It is important to know that they oppose cursive largely because they think the transition from manuscript to cursive is difficult for many students and leads to later handwriting problems. I would heartily agree, but draw an entirely different conclusion. I suggest we eliminate the confusion by teaching traditional American cursive first. 
An Experimental Study of a New Approach to Manuscript Writing (1946) by Mary Madeleine Adamczky. While I do not agree with the methodology or conclusions of this study, it is historically important. 
Handwriting at Elementary Level in Santa Fe Public Schools (2007) by Sarah J. Lescht. I should like to do a similar study for my school district; the results of which, I assure you, would be shocking. 
Enhancing alphabet knowledge instruction: Research implications and practical strategies for early childhood educators (2012) by Cindy D. Jones, Sarah K. Clark, and D. Ray Reutzel. 
A Scale for Measuring the Quality of Handwriting of School Children (1912) by Leonard P. Ayres. A Superb method of measuring cursive handwriting ability, with a rubric. 
A Scale for Measuring the Quality of Handwriting of Adults (1915). Another excellent book by Leonard P. Ayres of great value for measuring cursive performance. 
Teaching Reading & Writing with Cursive First: Podcast with Liz FitzGerald. 
Teaching Handwriting Helps Students Achievement by Samuel Miller. A brief article with a lot of wisdom. 
Campaign for Handwriting: Main Site, Blog. Annie N., one of our 3rd grade girls, won the 3rd grade girl cursive championship for 2014. I am proud to have been her cursive handwriting teacher. 
The Writer Automation: A 240 year old doll that can write by clockmaker, Pierre Jaquet-Droz. Can we learn something from a doll about how to write better? Perhaps. 
The Missing Link: The Lost Art of Handwriting (2012) by Philip Hensher. A deep reflections on the loss of handwriting. 
Properly Gripping a Pencil by Richard McManus. 
The Effect of Transition from Manuscript to Cursive Writing upon Subsequent Performance in Handwriting, Spelling and Reading by Wayne Otto and G. Lawrence Rarick (1968).  The significant conclusion of the study was, "Although the impact of manuscript writing upon initial symbol perception is not fully clarified by this investigation, there appears to be support for reconsideration of the effect of introduction cursive writing in first grade upon symbol perception in reading. in view of the fact that (a) there is little evidence to indicate that manuscript writing has a positive effect upon symbol perception and (b) the ultimate objective continues to be cursive writing, the introduction of cursive in grade one would appear defensible, at least in terms of its impact upon reading performance." In other words, cursive taught in first grade at least did not have a detirious effect on word perception.
RECENT TRENDS IN THE TEACHING OF HANDWRITING IN THE ELEMENTARY SCHOOL (1962) by Bonnie Marie Simms. This Master's Report contains a lot of very hard to get information. I thoroughly disagree with the recommendation to jettison cursive entirely from the elementary curriculum, but include the report because of the plethora of references and to  give a balanced representation of opinions. 
Important Information from Randy Nelson
Good discussion and good point Don, and it lends to Bob's comment about words being recognized as "units" as well. There is now scientific evidence of the impact of fluency on processing of written language.
 Recognition of words as "units," I call them instant words, depends upon how the child is processing the forms. Fluent children are able to handle the transcription task (guiding the pencil or fingers on a keyboard) automatically because they have good dynamic information stored in the muscle memory, and they have learned how to tap into the system. That ability can be taught, or it might possibly emerge for some as a result of repetitive application in lots of writing experiences.
 Those students who are not given the kind of instruction and practice opportunity that will result in learning how to tap the motor system for transcription, are stuck with processing the symbols visually. That is what causes the problems with learning to spell and compose.
 There is very little memory associated with the visual processing system and what there is tends to be short lived. Processing visually demands cognitive processing power. That has been shown with fMRI. The result is a reduction in the amount of processing power available for generating text. Application of the skills for composition, spelling, sentence structure, and even remembering vocabulary for better word choice is diminished relative to the amount of processing power needed for visually guiding the pen, pencil or keyboarding process.
 It boils down to a rather simple formula. A child who can write the letters fluently and legibly has learned to use the motor system and the patterns stored there. That child is much more likely to be able to store movement patterns for all of the words as they are presented and used.
 The muscle memory communicates with the muscles by sending batches of movement information. That batch can contain all of the movements needed to produce a letter, and it can contain all of the movements needed to produce a word; an instant word, one that is recognized as unit or whole and written as a unit or whole.
 There are essentially two ways to develop this instant-word database in muscle memory. We can conduct regular training/practice sessions aimed at establishing the word patterns, or we can provide constant opportunity for application of the new words in the hope that a successful pattern will be established.
 Frankly, I don't think either of these situations is occurring in most of our classrooms. Filling in the blanks on countless worksheets is not real application. And, despite the fact that spelling tests are generally written, the ability to write a new word fluently is not really part of the objective for spelling lessons. The ability to name the letters in the correct sequence does not indicate mastery. And, independent practice, like writing each new word five or ten times, is usually not effective either. That's is due to the fact that the independent work usually winds up being visual processing or drawing practice. The muscle memory is always working, but this visual processing practice causes it to record very poor dynamics. [Click on the preceding sentence for a presentation on why tracing should be with the pointer finger and not a pencil.] 
 When the brain does reach out for the muscle memory, the information stored therein, determines the legibility of the product on the page. I suspect that a nationwide survey of adults would reveal that the vast majority will say, "I can write neatly if I take my time." Most would also agree with the idea that people who can write legibly with fluent ease have some sort of natural athletic gift.
 That may well be true, but they may also have been lucky enough to have a grade school teacher who took the time to teach good handwriting skills and fluent movement for spelling and vocabulary words. They might have been lucky enough to have a grade school teacher who insisted that they write sentences to define new words instead of filling in the blanks on a worksheet. [The preceding information is from a September 2012 Linked In post.]