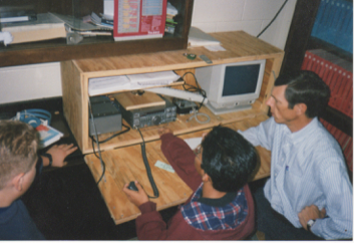 The picture above was taken on May 15, 1997.
The student operating the Kenwood 440 is Derek Latimer.
Derek was in my after school class at Bowie Junior High for three years.
I taught Amateur Radio for the Ector County ISD for 7 years.
Derek recently looked at the picture and said the student wasn't him. 
Dedication
This page is dedicated to the Amateur Radio operators who advanced the frontiers of Radio Science and have provided invaluable emergency communications that has saved thousands of lives. 
Teaching Amateur Radio
For eight years, it was my privilege to teach amateur radio classes for the youth of the Ector County Independent School District, two years at Travis Elementary Math and Science Magnet School, and six years at Bowie Jr. High. I taught two enjoyable summer sessions for the Gale Pond Elementary School.  I hope this page will encourage young people to take up this fantastic hobby for their enjoyment and to enhance their knowledge of math, physics, and radio communications. 
The students also learned to copy Morse Code. I should especially like to recognize Mr. Pete Shugar who has assisted me as Chief Engineer for the Ector County ISD Amateur Radio Program. Mr. Shugar has excellent knowledge of radio science. He is the master of fun scientific experiments. His experimenter's table at our classes was the center of much hands-on learning activities. I taught amateur radio classes at Travis Magnet, Murry Fly, Gail Pond Alamo, and Bowie Junior High. 
Find Our More about Amateur Radio
Anyone interested in radio communications will want to check out the ARRL web site at: ARRL  This site has all the information you need to get started in this exciting hobby. 

Morse Code 

My favorite mode of communications is Morse Code. The best way to learn it is with the Koch Method. I believe educators will find the principles of this method applicable to many different subjects, wherever automated, procedural processing skills are important.  Here is the web site. Koch Method  In fact, the some of the very first experiments in cognitive psychology involved the study of how students learned Morse Code. I can copy 20 Words Per Minute. To copy code at this speed requires total automation of the process. I know several operators in our ham club who can copy code while engaged in conversation, reading a book or watching TV. Here is the best computer CW trainer I have ever used: g4fon Koch Method CW Trainer.
I recently watched the movie Lincoln. There were numerous scenes in the Telegraph Office. Lincoln was able to orchestrate much of the work from that office. Anyone interested in the part telegraph played in the Civil War will want to read David Homer Bates marvelous Lincoln in the Telegraph office (1908). Here is a site dedicated to Morse Code in the Civil War. Telegraph in the War Room. 
International Morse Code: Radioman 3  2, Chapter 4: Bureau of Naval Personnel, Navy Training Course, 5th Ed. 1967. This is a wonderful source of information on all aspects of Morse Code. 
Zen and the Art of Radiotelegraphy by Carlo Console. This book is an excellent introduction to every aspect of Morse Code. 
Here is a copy of my Heathkit HW 101 HF SSB/CW transmitter i built this unit from a kit i about 1979. I used it for both 
SSB and CW for many years. I still have it. 
Here is a restoration video for a Heathkit HW 101 like I built.
Here is another excellent HW 101 Video. 
Learn Code the Easy Way (Archer, sold by Radio Shack) 
Free Online Electronic Books 
My old class buddy, Jimmy Elliott, sent me the link to this excellent, free electronic textbook.  Lesson in Electric Circuits by Tony R. Kuphaldt. 
I appreciate Jim Elliott sending me the link to this excellent website, featuring cutting edge Radio Electronics from 1913 to 1931.