READING MADE EASY 

WITH 
BLEND PHONICS
Nationwide Blend Phonics Educational Reform Campaign

Sponsored by Donald L. Potter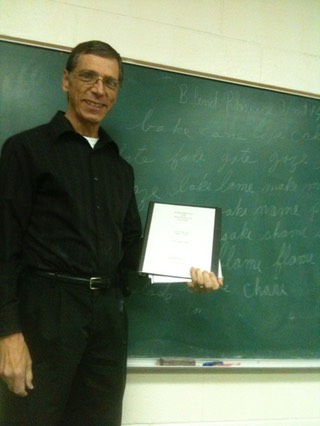 Don teaching Blend Phonics Unit 14 
Reading Made Easy with Blend Phonics for First Grade is an powerful phonics program for teaching reading to student of any age. 

Purpose Statement
The goal of this Blend Phonics webpage is to initiate a nationwide campaign to make Blend Phonics Technique with directional guidance available to every parent,  elementary teacher, and every reading tutor in America. 

 How it all started
In 1999, I read the following stirring recommendation for Hazel Loring's 1980 Reading Made Easy with Blend Phonics for First Grade by Robert W. Sweet, Jr. Cofounder and President of The National Right to Read Foundation in his 1997 article, "The Century of Miseducation of American Teachers:"
"An effective answer to illiteracy … Let me offer a less costly, and more effective answer. I have here a twenty-five page booklet called Blend Phonics written by Hazel Loring, a master teacher born in 1902, who taught under both the "whole word" and phonics systems. The legacy she has left us is powerful. Within the pages of this little booklet is the cure for illiteracy as we begin the twenty-first century. … If every pre-service reading teacher, every reading supervisor, every kindergarten, first- and second-grade teacher in America had the information contained in Hazel Loring's 25-page booklet and taught it this fall, there would be such a dramatic decrease in illiteracy in this country that the national media would be forced to take note."
That last sentence struck me with great force. What if Mr. Sweet was correct? Why on earth are we having so many children with reading problems if such an inexpensive, simple, and effective method is available in a mere 25 pages? I immediately got a copy of Loring's booklet from the Interlibrary Loan. I republished it on my website in 2003. At that time I had not used the method. Time passed. In 2007 I decided to teach Loring's method to reveal students to see for myself just how effective it might be. 
What I discovered

 I soon experienced complete success with all my tutoring students. This includes students from first-grade through adult. I discovered to my complete satisfaction that Mr. Sweet wasn't exaggerating. Here is A SIMPLE, EFFECTIVE, INEXPENSIVE SOLUTION TO ILLITERACY in America.
Why it works 
(Directional Guidance & Comprehension Training)
A. Hazel Loring wrote, "All of my teaching experience has confirmed my belief that directional guidance, inherent in the blend phonics system, is the key to success in teaching reading."  Loring's method is taught from the chalkboard or overhead. Students learn to blend the sounds of the letters from left to right, one after the other. They do not see the whole word at a glance; therefore, they are required to look at each letter in proper sequence. The blending is done in this order, for example "bat:" b+a = ba ba+t = bat." Dr. I. A. Beck calls this "sequential or cumulative blending." 
B. After the words is sounded-out, the students take turns creating sentences to demonstrate that the can comprehend the words. For words the many not know, the teachers will them the sentence. This totally eliminates any possibility of word calling (sounding to words without understanding). 
How To Get Your Copy of Blend Phonics
A. Reading Made Easy with Blend Phonics. This is my inexpensive paperback edition that includes my Blend Phonics Fluency Drills for building reading fluency through daily practice. 
B. Reading Made Easy with Blend Phonics for First Grade (1980) by Hazel Loring. This a free edition of Hazel Loring's original edition with valuable added notes. This PDF document can are run off on any printer, but it does not contain the Fluency Drills that I added the the paperback. 


Blend Phonics Supplements 

by Donald L. Potter
1. Blend Phonics Lessons and Stories. Following Mrs. Hazel Loring's excellent phonics scope and sequence, this book consists of 61 phonics lessons each with a short decodable story for reading practice. Each story is accompanied by four comprehension questioned and a list of spelling words. 
2. Blend Phonics Timed Fluency Drills. These Drills are a very valuable supplement to Blend Phonics.  The drills are based on the Precision Teaching concept of building reading fluency through practice  which in turn increases available attentional capacity leading to increased comprehension. 
3. Beyond Blend Phonics: English Morphology Made Easy. Mr. Potter's Beyond Blend Phonics published on March 14, 2015 as a followup to Reading Made Way with Blend Phonics. It teaches the Anglo-Saxon, Romance (Latin & French), and Greek Levels of English. The book is a powerful way to increase reading levels by teaching the morphemes of the language. 
Additional Resources for Teaching Blend Phonics
1. Blend Phonics Power Point. These slides are designed to be used in conjunction with the paperback Blend Phonics Lessons and Stories. The words are presented one at a time on the slides instead of in paragraphs. The vowels and vowel digraphs are in red. The stories and spelling words are included.
2. Blend Phonics Reader: Standard Edition. I wrote this Reader to be used for reading practice (homework) after a Unit is taught in the classroom. There are just words lists for decoding practice. Words of similar configuration are grouped together to help student learn to pay close attention to all the letters. Numerous words have been added to my Blend Phonics Reader that are not in the original Blend Phonics program; but they are all 100% decodable according to the phonics skills previously taught. There are approximately 2,080 different words in the Reader.  I have seen students improve three grade levels in as little as four hours! This Reader is available as a appendix to my inexpensive paperback edition of Reading Made Easy with Blend Phonics.
3. Blend Phonics Reader Lite. This special edition of the Blend Phonics Reader is designed for younger students. This reader has only the words in Loring's original program, about 1,450.  Here is a special edition of Blend Phonics Lite with the vowels in red. 
4. Blend Phonics Decodable Stories. Mrs. Elizabeth Brown has written decodable stories to go with the Blends Phonics. Unlike most so-called decodable stories, which are actually hybrid between sight-words and phonics, these stories are truly 100% decodable. They are free of pictures (which can cause whole-word guessing) and predictable text (which can cause context guessing). This is the lowercase edition.
5. Blend Phonics Lessons and Stories: Uppercase Editions. Very young learners benefit from starting with the uppercase letters because they are easier to learn than lowercase. They also eliminate the word shape clues that can lead to guessing from word shape. Here is my Alphabet Fluency material for uppercase manuscript. 
6. Blend Phonics Lessons and Stories. This is a special edition of Elizabeth Brown's decodable stories with the stories preceded by the Blend Phonics word list. This is in essence a complete program of phonics lessons and stories. There are 62 storybooks. I have added comprehension questions and a spelling exercise for each story. Here is a Certificate of Successful Completion for the Blend Phonics Lessons and Stories. 
7. Blend Phonics Table of Contents. This two page document outlines the Blend Phonics Scope and Sequence.
8. Blend Phonics Unit Progress Chart:  This will help you keep track of each student's progress through the 45 Units of Blend Phonics.
9. Blend Phonics Certificate of Completion. Uses this certificate to award your students for their success. There is a place to date and initial each of the Six-Steps of the Blend Phonics program.

10. Blend Phonics Alphabet Flash Cards. These are just regular flashcards for the 26 letters of the alphabet. Students who know their alphabet well rarely have problems learning to read with phonics-first. Dr. Leonard Bloomfield claimed that if a child could tie his or her shoes, pick up a pin, and know the alphabet, he or she could learn to read. 
11. Blend Phonics Decoding Cards. These are not intended to be flashcards. They are "decoding cards," designed to automate the decoding progress though repeated (spaced) opportunities to sound-out words. I usually drag my finger under the letters from left to right to help reinforce Blend Phonics Directionality. Here is the Blend Phonics Cards Numbered document that I created to help me number the cards.
12. Blend Phonics Spelling Family. Here is the Blend Phonics Spelling Families with the vowels in red. 
13. Blend Phonics Reader: Uppercase Edition. This special edition is in all uppercase sans serf letters. It is useful for very small children since the upperecase letters are visually much simpler than lower case. For older students, who have developed the word-shape guessing habit, the uppercase letters eliminates the possiblity of whole-word configurational guessing since every word has the same shape. Compare: bag, beg, big, bog bug with BAG, BEG, BIG, BOG, BUG.
14. Blend Phonics Sound-to-Symbol Flashcards. These cards can be used with any phonics program. Full instructions on the back of the cards. Flashcard Outline. This set was corrected and revised, 3/12/08.
15. Blend Phonics Charts. These are for teachers and parents to show them how to properly make the speech sounds (phonemes) necessary to teach Blend Phonics with maximum efficiency. They are especially helpful for people who have never been trained to teach reading with phonics. 
16. Blend Phonics Sound-to-Symbol Charts. Phonics Charts to help students master the sound-to-symbol relationships taught in Blend Phonics. I also recommend the Phonovisual Charts. Phonovisual Review. Phonovisual Consonant Audio for Students. Phonovisual Vowel Audio for Students. Students of all ages can teach themselves the sound-to-symbol relationships with the charts and my audio instruction.
17. In 1982, Hazel Loring won the prestigious Watson Washburn Memorial Award for Excellence in Education. Mrs. Loring wrote an excellent autobiographical article for The Reading Informer, a publication of the Reading Reform Foundation in 1979: Intensive Phonics: The Only Way to Go." 
18. Tribute to Hazel Loring by her son. 
19. Spelling Rules for Blend Phonics by Mrs. Elizabeth Brown
20. Blend Phonics Syllables. Syllables for the Blend Phonics Reader.  
21. Charlie Richardson has written a helpful supplement to Blend Phonics (or any other synthetic phonics program) for teachers who need a brief but informative introduction to phonics: The Alphabet Code & How It Works.  For audio-instruction in the Alphabet Code, click here: Alphabet Code - mp3.
22. Mr. Edward Miller's Miller Word Identification Assessment (MWIA) for whole-word dyslexia. This is the assessment instrument that turn my life around because it demonstrated conclusively that most of the dyslexia that I was remediating was the result of sight-word instruction. It also pointed me toward Hazel Loring's Reading Made Easy with Blend Phonics for First Grade as the definitive solution to both preventing and remediating the disability. Here is a Revision of the MWIA to for students who have been taught the Dolce List. 
23. Original Reading Made Easy with Blend Phonics for First Grade. I am republishing a scanned copy of Hazel Loring's original program for historical purpose. I have included some historical information. 
24. Blend Phonics Lessons & Stories Progress Chart. 
25. Blend Phonics Lesson & Stories Spelling Flashcards. There are 636 spelling words here covering the entire program. These cards are very valuable for building word decoding fluency. 
26. Blend Phonics Timed Fluency Drills. I published this supplement on April 17, 2016. The are beneficial for all students, in particular student who need help in developing decoding fluency.
27. Blend Phonics Timed Fluency Drills: UPPERCASE. This is a special edition of the time fluency drills for very young children just learning the alphabet or older student who struggle with a whole-word guessing problem. The letters are in Small Caps, with the capitals in larger uppercase form. 
28. Blend Phonics Pre-Primer. A primer is a book for teaching beginning reading. A Pre-Primer is a book to be used before starting a primer. The Blend Phonics Pre-Primer teaches 240 short-vowel words with phonics to prepare students for Blend Phonics. It is mainly for parents and teachers who want to teach preschool children some basic decoding skills. Here are the Blend Phonics Pre-Primer Decoding Fluency Cards. Here is a version of the Blend Phonics Pre-Primer in Uppercase Letters for very young children ages three and up.  
Testimonies
Concerning the Effectiveness of Blend Phonics (and Word Mastery)
In 2007 I received this unsolicited letter from Dr. Eugene Roth, Jr. of Phoenix, Arizona, concerning the effectiveness of Blend Phonics and the companion program, Word Mastery.  For the insights from a professional with years experience working with children struggling with learning difficulties, please read this Letter from Dr.  Roth. 
On 10/28/2007, I purchased the www.blendphonics.org domain name. 
This page was launched on 9/30/2007 at www.donpotter.net 

Last updated: 7/25/2016